Reviews
In Nexus Review, professional experts and young talents review classical works, groundbreaking studies and topical essays on art, culture, history, politics and philosophy, combining a critical outlook with a broad vision and an accessible style. The books discussed in Nexus Review offer a broad view of culture, society and history that goes beyond a myopic concern with current affairs.
Spotlight
Lost in Thought
An excellent example of what it aims to capture: solid, high-quality, splendidly useless thinking in action.
Time and Power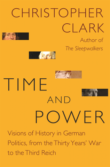 'Time and Power' aims to break with the ingrained belief that cyclical conceptions of time were eclipsed by a linear view of time
What Are We Doing Here?
Robinson submerges us in her intellectual as well as everyday world, which we finally leave far more knowledgeable and sensitive