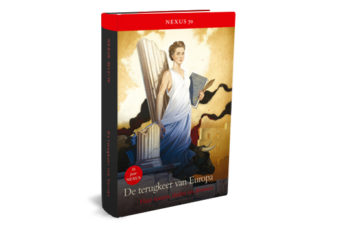 Journal Nexus, Special
Nexus 70
The journal Nexus is published in Dutch only. Order your copy of this issue on our Dutch site.
Find out more about our English publications. Or become a Nexus member, to access our online archive.
Ter gelegenheid van het 25-jarig jubileum van het tijdschrift Nexus is voor deze speciale gebonden uitgave een tiental klassieke toespraken verzameld – van o.a. Victor Hugo, Robert Musil, Joseph Roth, Stephen Spender en Robert Schuman – die ons als de draad van Ariadne uit een doodse Unie kunnen leiden.
Tegelijk, omwille van de kritische dialoog, zijn eigentijdse denkers en dichters – o.a. Colm Tóibín, Timothy Garton Ash, Ivan Krastev, Adam Zagajewski, Javier Marías, Philipp Blom en Placido Domingo – gevraagd te reflecteren op de nexus tussen verleden, heden en toekomst.
Zo is Nexus 70 als een polyfoon gezang van Orpheus; vol van hoop, zelfinzicht, wijsheid en vertrouwen, opdat prinses Europa uit de vergetelheid wederkeert en, nadat zij haar tranen over de wandaden die in haar naam zijn gepleegd heeft gedroogd, bewust van haar eigen daden in het verleden, weer wil vechten voor het verwezenlijken van haar droom: een beschaving waarin ieder mens in waardigheid zal leven en met trots zal zeggen: 'Ik ben Europeaan!'