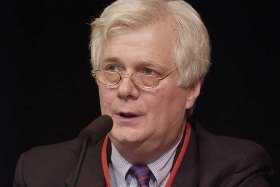 Photo: Robert Goddyn
United States, 1944
TV producer
William Wheatley
William Wheatley is the former vice president of the American TV network NBC News. For many years, he was a familiar presence in TV journalism: in 1975, he became an editor at NBC News, and was made producer and executive producer afterwards, finally to become vice president. Thanks to him, NBC started focusing more on (international) politics.
Speaker at
Conference
Part I. Mass Democracy on Trial
What Is a Good Society?
13 November 2005 09.45 - 21.30 Passenger Terminal, Amsterdam