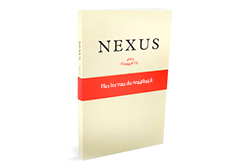 Journal Nexus
Nexus 53
The journal Nexus is published in Dutch only. Order your copy of this issue on our Dutch site.
Find out more about our English publications. Or become a Nexus member, to access our online archive.
Het laatste waarmee we geconfronteerd willen worden in ons leven, dat wat we vaak ten koste van alles het liefst vermijden, is de waar­heid. Dit fenomeen is treffend verbeeld door Goya. Tussen 1810 en 1815 maakte hij de etsen Los desastres de la guerra die zowel een verslaglegging vormen van de oorlog, als een tijd­loze weergave van de wreedheid en stompzinnigheden waartoe de mens in staat is.
Een van de laatste etsen in deze serie is getiteld Murió la verdad – de waar­heid is gestorven. Wat Goya hier op zo een indringende manier laat zien, is welhaast de wellust waarmee het volk gereedstaat om de waarheid voorgoed te begraven en eens en voor altijd van haar af te zijn. Dit beeld roept de vraag op: wat is nu het lot van de waarheid?