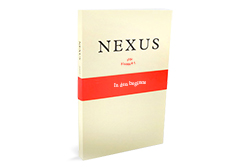 Journal Nexus
Nexus 1
The journal Nexus is published in Dutch only. Order your copy of this issue on our Dutch site.
Find out more about our English publications. Or become a Nexus member, to access our online archive.
Nexus is een essayistisch tijdschrift om de nexus, de samenhang, tussen het cultureel erfgoed en de lotgevallen van de hedendaagse mens en maatschappij te bestuderen. Daartoe zal het tijdschrift essays over cultuurhistorische, cultuurfilosofische en cultuurkritische onderwerpen publiceren, en boeken op het gebied van de humaniora, wijsbegeerte en theologie recenseren. Het Europees cultuurgoed, rijk in zijn verscheidenheid, zal worden getoond. Nexus zal zich niet tot een bepaalde religieuze overtuiging of ideologie beperken. De bijdragen zijn internationaal, maar worden in het Nederlands opgenomen opdat ook deze taal, en het met haar verbonden cultuurgoed, niet verloren zal gaan.