Photo: Robert Goddyn
Lebanon, 1957
former director of the Dutch Opera
Pierre Audi
Pierre Audi is an internationally celebrated theatre and opera director. From 1988 to 2018 he was director of the Dutch National Opera. Under his directorship, DNO became one of the leading opera houses in the world, staging grand performances including the first Dutch production of Wagner's Ring cycle. Between 2005 and 2014 Audi was artistic director of the Holland Festival, attracting prominent and promising artists and directors from various disciplines to the Netherlands. From September 2018 he has been general director of the Festival d'Aix-en-Provence as well as artistic director of the Park Avenue Armory in New York. Audi was knighted in the Order of the Dutch Lion and in the Légion d'honneur. To mark his departure from the Dutch National Opera he received the Gold Medal of Honour for Arts and Sciences of the House of Orange Nassau for his contribution to Dutch cultural life and for his work as a stage director.
Philipp Blom, Caroline de Gruyter, Arnon Grunberg and Pierre Audi discuss the question 'Would you die for Europe?'.
Pierre Audi: "I am very concerned, because in de middle of this discussion on Europe there is also the discussion about the disintegration of what I would call the cultural specifics into a morass of something very vague." Photo: Dolph Cantrijn
Speaker at
Conference
Nexus Conference 2019
The Ring or What Will Rule the World
Sunday 10 November 2019 9.30 – 16.00 National Opera & Ballet, Amsterdam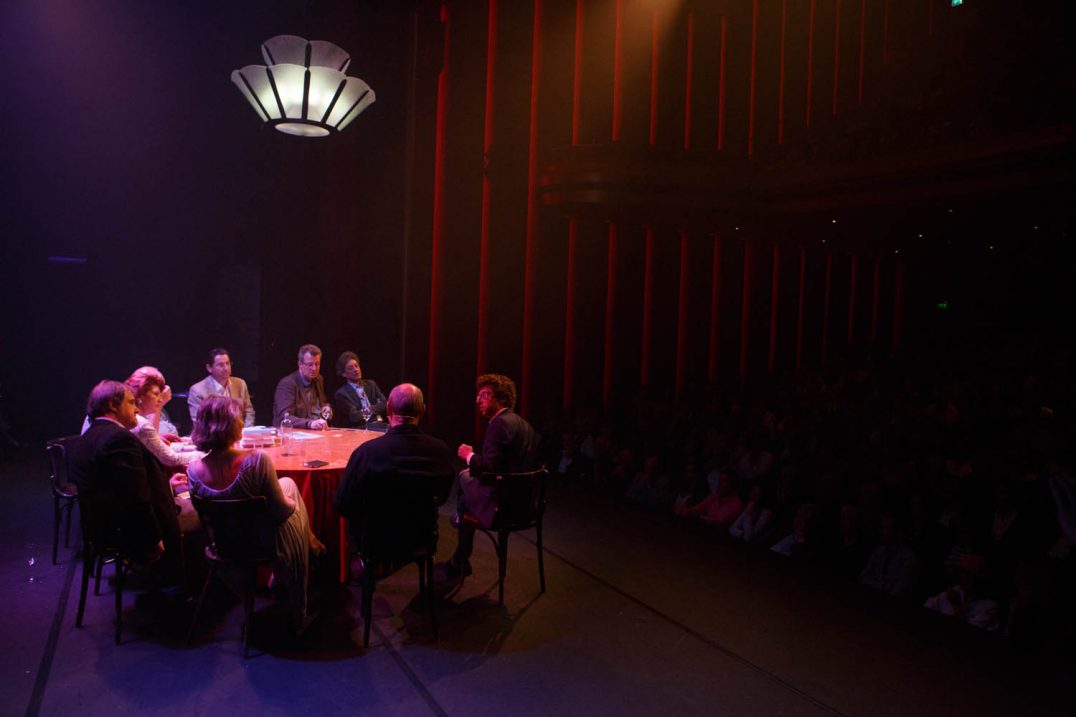 Symposium
Nexus Symposium
Je suis Européen!
6 June 2015 14.00 - 17.00 DeLaMar Theater Amsterdam
Conference
Part I. Faith, Death, and Freedom
Man after the End of History
6 September 2009 9.15 - 17.30 Het Muziektheater Amsterdam
Conference
Part III. The Anatomy of Loss
The Quest for Life
2 November 2003 9.20 - 22.00 Tilburg University
Conference
Part I. Love and Death
The Quest for Life
4 February 2001 9.30 - 20.00 Tilburg University
Conference
Nexus Conference 1999
No Place for Cosmopolitans?
8 October 1999 9.35 - 21.45 Tilburg University
Conference
Nexus Conference 1997
The Trial of Richard Wagner
3 September 1997 10.45 - 21.30 Tilburg University